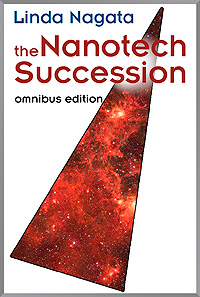 by Linda Nagata
$16.00 (Omnibus) ISBN 978-1-937197-06-3
The Nanotech Succession is a collection of four stand-alone novels exploring the rise of nanotechnology and the strange and fascinating future that follows—beginning tomorrow and reaching far into time.
The following titles are included in the omnibus edition. Click the links to learn more about each book or to read a sample chapter.
Tech-Heaven
The Bohr Maker — winner of the 1996 Locus Award for Best First Novel
Deception Well
Vast
Please note: this edition DOES NOT include Bruce Jensen's original cover art, which is found only on the individual novels.
Purchase The Nanotech Succession Omnibus Edition
"Linda Nagata presents a unique world-view. Every one of her books that I have read has been alien and disturbing. I love and identify with the characters, but the situations they inhabit stretch the mind. This is as true of Linda Nagata's fantasy as her science fiction. Her work is really, really different. And that's a good thing." —from long-time reader Larry Clough

About Vast:
"VAST lives up to its name–big, important, yet written to a human scale so the perspectives of science emerge all the more strongly. Among hard sf writers, Linda Nagata is a pearl, able to render her complex landscapes in moving, quick-paced stories that linger in the mind." –Gregory Benford
"[Vast is]…one of the most enjoyable SF books I've read in the last 12 years…I can safely say that it is one of the very novels that has literally haunted my dreams, in that the book exerted such a powerful hold on my waking imagination that come nighttime I found my sleeping brain racing ahead with the story. It's awesome!" –Alastair Reynolds
About Deception Well:
"…By the time the last piece is in place, other readers may feel, as I did, that this story of love coerced, lost and (possibly) redeemed could not be told to greater effect with any other method." –Gerald Jonas, New York Times Book Review
"…This payoff puts Deception Well firmly in the company of Stapledon, Benford, Bear, McAuley, and Niven…" –Russell Letson, Locus Magazine
"…a complex yet fast-paced story set in a high-tech future filled with autonomous nanomachines, inscrutable alien intelligences, and of course, duplicitous humans. Watching how all the elements fit together is half the fun." –The Magazine of Fantasy & Science Fiction
About The Bohr Maker:
"…excellent….bursting with ideas and adventure…" –Fred Cleaver, Denver Post
"…phenomenal….This one is a winner–grab it when you see it…" –Tom Easton, Analog
About Tech-Heaven:
"…Nagata's theme is both ambitious and important: the attempted political regulation of new technologies, especially as they relate to human rights…" –Gary K Wolfe, Locus
"…The elements which make Linda Nagata a master of her art are not simply the depth of her understanding in nano and cryotech, but the depth of the plot and her three-dimensional characters…" –Rob Sullivan
"…an excellent portrayal of how nanotechnology may one day penetrate human society…" –Tom Easton, Analog