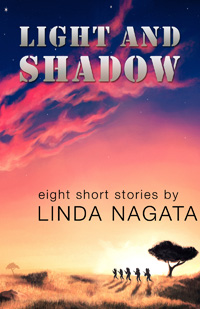 by Linda Nagata
$3.99 (Short Story Collection) 
ISBN 978-1-937197-21-6
A collection of eight stories by Linda Nagata. Visit high-tech future battlefields, surreal other worlds, an orbital habitat, and a distant moon. Embrace action, and harrowing adventure. Half of these stories have appeared in various best-of-the-year anthologies, and each is introduced with brief notes from the author.
Story list:
Through Your Eyes (Asimov's 2013)
Halfway Home (Nightmare Magazine 2013)
Codename: Delphi (Lightspeed Magazine 2014)
Attitude (Reach For Infinity 2014)
A Moment Before It Struck (Lightspeed Magazine 2012)
Light and Shadow (War Stories 2014)
Nightside On Callisto (Lightspeed Magazine 2012)
The Way Home (Operation Arcana 2015)